Hot Dinners
Our catering team provide delicious cooked lunches. The meals are nutritional, very well cooked and presented, offer excellent value for money and are prepared from fresh produce everyday. Please contact us, or find out more from Nottinghamshire County Council.
Bookings are to be made on Parent Pay as previous, and will close at 12:00pm each Friday for the following week.
If you have chosen the choice meal, your child will be given a card from their class teacher as they leave the classroom to have lunch. This will be then handed to the dinner staff in the hall.
(It may be necessary at times to change the desserts during the week.)
Lunch Menu – Sept 23 – Feb 24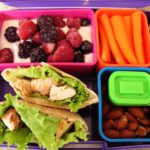 Packed Lunch
A balanced packed lunch should contain:
starchy foods – these are bread, rice, potatoes, pasta and others
protein foods – including meat, fish, eggs, beans and others
a dairy item – this could be cheese or a yoghurt
vegetables or salad and a portion of fruit
Starchy foods are a good source of energy and should make up a third of the lunchbox. But don't let things get boring. Instead of sandwiches, give kids bagels, pitta bread, wraps and baguettes. Use brown, wholemeal or seeded bread, not white bread.
Free School Meals
Check to see if your child qualifies for free school meals and find out how to apply.