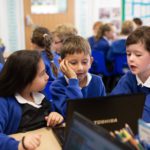 Concerns
If you or your child has any online concerns we can help with at Holly, please try to save any evidence and then contact:
head8@holly.notts.sch.uk or pop in and see us. Here you will find reporting links and advice to keep us all safer online.
On-line Advice & Reporting
Cyber Aware is the UK government's advice on how to stay secure online during coronavirus. Many of us are spending more time online. Keep yourself and your family secure by following our advice. Stay home. Stay connected. Stay Cyber Aware.
The Click CEOP button is an asset of the National Crime Agency's CEOP Command. The CEOP Command works to protect children from the harm of sexual abuse and exploitation both online and offline.
ThinkuKnow is a website that links with CEOP.  It provides age appropriate advice and support for children and parents and hosts some thought provoking cartoons and animations for children.
We tell our children to share but online it's different. In fact, sometimes sharing online can be dangerous. That's why the NSPCC have joined forces with O2 to ask parents to be Share Aware and keep children safe online.
Click this image to go to the NSPCC ShareAware App review page. A lot of useful information about age restrictions and safety pertaining to many of the most popular 'Social Media' Apps.