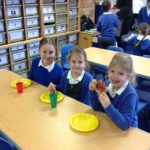 Holly provides both a breakfast club and an after school club offering a safe, caring and friendly environment for children before and after school. Our telephone number is: 07377 867769
Breakfast Club: 7.30am – 8.45am – After School Club: 3.30pm – 5.30pm
Activities
Staff members take part in suggesting ideas for weekly planning for the following week. A balance of activities is aimed for, including: Art and craft, games – outdoor and indoor, quiet activities – reading, colouring, construction, Interactive activities – board games and dancing competitions. Children are encouraged to mix across the age groups and to help and support one another. Older children are encouraged to take responsibility for younger children.
Menu
We provide a variety of food each day which includes: low sugar cereal, fresh fruit, toast and jams, yoghurts, crumpets and fruit juice.
Parental Involvement
The club places a high priority upon involving parents and ensuring that parents are aware of developments and events. We are also keen to consult parents about their views and to collect suggestions to improve the facilities we offer.
Information from Kelloggs